Skip to Content
What's the Difference Between a Persian and Oriental Rug?
Countless types and styles of rugs are produced around the world, but some of the most highly sought-after are Persian and Oriental rugs. These terms are often used interchangeably, but there are distinct differences. Learn what sets Persian and Oriental rugs apart so you understand the product you're buying.
The Origins of Persian and Oriental Rugs
Oriental rugs come from across the "Rug Belt," which spans North Africa, the Middle East, and Central Asia. Rugs made in China, Egypt, India, Iran, Pakistan, Tibet, Turkey, and other countries in the region are considered Oriental.
However, Persian rugs are those specifically made in modern Iran. The name dates back to the Persian Empire, which formally changed its name to Iran in 1935. Even so, some products from Iran retain their Persian name to this day, including high-quality, hand-knotted rugs.
In short, Persian rugs are a sub-category of Oriental rugs. The two terms differentiate between knotting styles, design differences, and materials.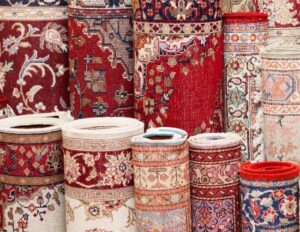 Knotting
Authentic Oriental and Persian rugs are hand-knotted on a loom. Symmetrical Ghiordes knots are most often used to tie Oriental rugs from Turkey and the Kurdish regions of Iran. They produce a neat, symmetrical look.
The most common knot used in Persian rug construction is the asymmetrical Senneh knot. Persian rugs also have supreme craftsmanship, with up to 160 hand-tied knots per square inch. Other countries that produce rugs with Senneh knots include Pakistan, India, China, and Egypt. Therefore, just because a rug is made with Senneh knots doesn't necessarily mean you can tell its country of origin.
Design Differences
Persian rugs often have an easy-to-spot central medallion surrounded by a floral design and outer border. Other possible patterns include all-over, compartment, and one-sided. Most styles feature symmetrical designs. The most prevalent colors are red, deep indigo, rust, gold, sage, and ivory, though every color imaginable may be woven into a Persian rug.
Oriental rugs often incorporate the same patterns as Persian rugs, but they can also feature geometric tribal patterns, asymmetrical images, landscapes, flora and fauna motifs, and much more. Oriental rugs may also include raised areas for added texture.
Authentic Persian and Oriental Rug Materials
Both Persian and Oriental rug weavers may use wool, silk, cotton, or goat hair. For instance, a rug woven in the Hamedan region of Iran is likely to have a wool pile on a cotton foundation, while an Afghan rug may have a wool pile on a wool foundation with goat hair to secure the fringe.
Because of the similarities, the only way to know for sure whether you're looking at a Persian or Oriental rug for sale is to ask a specialist. At Taghavi's Oriental Rugs, we have been selling and repairing high-quality rugs since 1977. We carry over 5,000 unique Oriental and Persian rugs, with restoration, repair, and cleaning services available at our Oriental rug store in Memphis, TN. Visit us today to shop our inventory, discuss a custom-made Oriental rug creation, or request a no-obligation estimate for any of our services.