Skip to Content
How to Care for Your Persian or Oriental Rug
If you own an authentic Persian or Oriental rug, you probably plan to keep it in the family for generations. With the proper care, Oriental rugs can retain their value, or even appreciate in value, for years to come. Here's how to look after your prized family heirloom.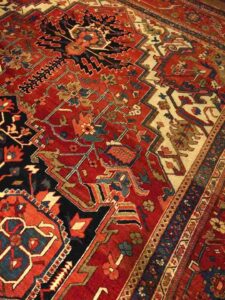 Use a rug pad: Placing a special pad under your rug increases the cushioning underfoot. More importantly, it protects the back of the carpet from abrasion and reduces movement to minimize wear and tear. Ask your dealer what rug pad you need for the type of flooring you have.
Use furniture cups: If your sofa, armchair, or coffee table sits on top of your rug, position plastic, metal, or wood furniture cups under the legs. This protects the pile from being crushed and prevents poking holes in the carpet.
Avoid direct sunlight: Oriental rugs are woven from natural materials, meaning they fade in the sun. To keep the colors vibrant, adjust your window coverings to prevent sunlight from shining on the rug. If possible, install UV filters on your windows as well, since even indirect sunlight can be detrimental.
Vacuum with caution: Vacuum once or twice a week to remove dirt and grit that accumulates inside the rug. Set the beater bar to the highest level or turn it off completely to prevent damaging the fibers.
Prevent moths: Moths threaten authentic Oriental rugs made of wool or silk. To prevent this, vacuum every square inch of the carpet, even the parts hiding under furniture. You may also want to set up a pheromone moth trap.
Monitor your pets: Sharp cat claws and puppy teeth are enemies of your Oriental rug. If you notice naughty pet behavior, consider relocating your rug to a room your animals can't access.
Rotate the rug: To even out fading and wear patterns, turn your rug 90 or 180 degrees at least once a year. You may also want to occasionally rearrange the furniture on top of the carpet to give crushed areas a chance to recover.
Clean up spills immediately: When your rug gets wet, clean and dry the spill promptly to prevent problems. Use nothing but water, as cleaning chemicals could damage the fibers.
Get your rug professionally cleaned: Schedule Oriental rug cleaning every few years to remove oils, chemicals, and dust buildup. This restores the pile to its former softness and revitalizes the colors, keeping your carpet looking fresh for generations to come.
Taghavi's Oriental Rugs in Memphis, TN, has been the premier seller and repair shop for high-quality Oriental rugs from all over the world since 1977. We are specialists in this field and carry an inventory of over 5,000 unique Oriental and Persian rugs while offering Oriental rug repair, restoration, and cleaning services to help your investment last. Visit us to shop our inventory, discuss a custom-size Oriental rug creation, or request a no-obligation estimate for any of our services.