Skip to Content
Understanding the Value of Persian and Oriental Rugs
Are you shopping for a new area rug? If you're unsure what determines the value of a custom Oriental or Persian rug, you could end up spending more than necessary. Here's how to tell a high-quality Oriental rug from a less valuable floor covering.
Oriental Rugs vs. Persian Rugs
These terms are often used interchangeably, but there's a distinct difference. Oriental rugs come from across the "Rug Belt," including China, India, Iran, Pakistan, Tibet, and Turkey. However, Persian rugs are only made in modern Iran, making them a sub-category of Oriental rugs. Today, the two terms differentiate between style, technique, and design rather than country of origin.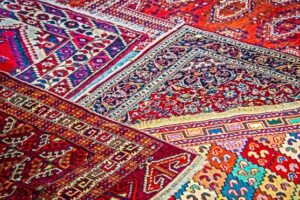 Hand-Knotted vs. Machine-Made Rugs
To be an authentic Oriental or Persian rug, the floor covering must be handmade by a skilled artisan. Modern rugs often feature machine-made thread and dyes, but they are still knotted by hand using the same techniques rug weavers have used for generations.
Machine-made rugs are mass-produced and don't hold their value, while hand-knotted rugs appreciate over time and are often handed down from one generation to the next as family heirlooms. Here's how to spot a hand-knotted rug:
Check the back. If it matches the front and has no backing, it's probably hand-knotted.
Check for a label. Machine-made rugs often have a label on the back, while hand-knotted rugs do not.
Check the fringe. This should be a continuation of the rug thread rather than being sewn or glued on.
Assess the symmetry. Hand-knotted rugs have unique imperfections that prevent perfect symmetry.
How are Rug Prices Determined?
Once you have found a genuine, hand-knotted Oriental or Persian rug for sale, consider these factors that affect the price:
Material: The highest-value Oriental and Persian rugs are made of silk, wool, or cotton.
Color and pattern complexity: Rugs with intricate patterns, uniqueness, color variety, and retained vibrancy over the years command a higher price than solid, faded, or plain-colored rugs.
Knot count: The higher the knot count, the more intricate details a weaver can incorporate into their design, resulting in a more beautiful, valuable product. Creating more knots per square inch also requires more time and effort, which is reflected in the price.
Age and condition: These factors go hand-in-hand. Rugs made more than 100 years ago are generally worth more, but only if they're in good condition. A highly valued rug has minimal wear, shrinkage, shape distortion, color bleeding, and fading. A few minor, well-done repairs are also acceptable.
Rug size: With few exceptions, a larger rug will cost more than a smaller rug in similar condition.
Taghavi's Oriental Rugs in Memphis, TN, has been selling and repairing high-quality Oriental rugs since 1977. As specialists in our field, we carry over 5,000 unique Oriental and Persian rugs, with restoration, repair, and cleaning services available to ensure they last. Visit us today to shop our inventory, discuss a custom-made Oriental rug creation, or request a no-obligation estimate for any of our services.