Skip to Content
How Much is Your Oriental Rug Worth?
Are you the proud owner of an antique Oriental rug? Perhaps you're interested in buying one, but you're not sure how to distinguish a high-quality rug from a less valuable floor covering. Consider the factors that affect how much an Oriental rug is worth.
Rug Size
The most obvious price indicator is size. A large rug demands more materials, time, and effort to make. Therefore, you can expect a grand 12' x 20' Oriental rug to garner a higher price than a modest 3' x 5' rug.
Knot Density
This measurement signifies the tightness and complexity of the weave. In general, a higher knot density equates to a more valuable rug. It's easy to figure out the knot density of your floor covering. Simply flip over a corner and count the horizontal and vertical knots in a one-square-inch area.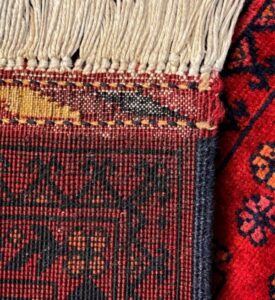 Material
The fiber material determines the carpet's look, feel, durability, and ease of cleaning. Be aware that the highest-value Oriental rugs are made of silk, wool, or cotton.
Design & Color
Most people buy an area rug to add style and comfort to their home. As a result, an Oriental rug's design and coloration are important factors when determining its value. Consider that intricate patterns and color variety command a higher price than solid or plain-colored rugs.
Construction Technique
There are two primary ways of making Oriental rugs. Machine-made rugs often have labels on the back, along with thin white warp yarns running the length of the rug. Hand-knotted rugs don't usually have a label and may show weft yarns running the width of the rug.
Age
The history of an Oriental rug reveals a lot about its value. If the floor covering was made more than 100 years ago and is still in good condition, it could be considered a collectible antique that will continue to appreciate in value. Oriental rugs made after World War II are generally less valuable. The significant influx of rugs from Pakistan and India to the United States during this era means they are relatively easy to come by. This lack of rarity degrades their value.
Condition
Age notwithstanding, an Oriental rug must be in good condition to have any value. Ideally, the rug should have a low pile height and even wear with minimal shrinkage, shape distortion, color bleeding, or fading. A few minor, well-done repairs are also acceptable.
Country of Origin
Oriental rugs come from China, India, Iran, Pakistan, Tibet, Turkey, and other North African, Middle-Eastern, and Central Asian countries. The origin point and other factors on this list may affect your rug's value.
Taghavi's Oriental Rugs in Memphis, TN, has been the premier seller and repair shop for high-quality Oriental rugs since 1977. As specialists in the field, we carry over 5,000 unique Oriental and Persian rugs and offer rug restoration, repair, and cleaning services to ensure your investment lasts. Visit us today to shop our inventory, discuss a custom-made Oriental rug creation, or request a no-obligation estimate for any of our services.