Skip to Content
Things to Know Before Buying a Persian or Oriental Rug
Purchasing a Persian or Oriental rug is a big decision. The investment will impact your interior design for years and could even become a prized family heirloom passed down from generation to generation. For the best results, follow these tips on how to buy an Oriental rug.
Set Your Budget
Oriental rugs are coveted among homeowners and collectors for their incredible detail and geometric patterns. Professional artisans spend years, sometimes over a decade, creating a single masterpiece. As a result, genuine Oriental rugs are typically more expensive than machine-made knock-offs.
Remember, you get what you pay for, so don't make the mistake of choosing a cheap rug that will wear out sooner. Odds are you'll replace the low-quality carpet after a few years and end up spending more in the long run.
Consider Your Usage & Lifestyle
You can find throw rugs for every environment, from casual living rooms with pets and children to formal dining rooms only used on special occasions. Keep in mind that wool rugs are more durable than those made with silk. Ask a specialist dealer or an interior designer for help selecting a rug that suits your needs.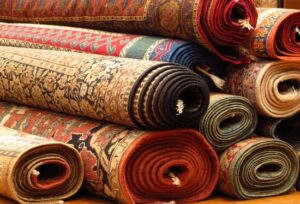 Know What Makes a Quality Oriental Rug
To ensure you're not paying for an overpriced knock-off, ask your dealer about these characteristics:
Knot count: In general, a higher knot count makes for a plusher, more durable rug. Look for at least 120 knots per square inch.
Hand-knotted construction: Check the back of the rug you want to buy. If the pattern matches the front and no backing or label is present, you're probably looking at a high-quality, hand-knotted rug.
Materials: High-quality Oriental rugs can be made of wool, silk, or cotton. The best wool has a natural luster and is soft to the touch while also being hard-wearing underfoot. Silk rugs are beautiful creations best suited for low-traffic areas. Cotton or silk accents on wool rugs look beautiful, but mixing materials can complicate the cleaning process.
Dyes: Traditional Oriental and Persian rugs use natural dyes. These are higher quality than chemical dyes and also affect what cleaning methods you can use.
Design: An intricate design doesn't necessarily indicate quality, but it conveys the weaver's expertise and skill. Nothing compares to the beauty of an authentic custom Oriental rug!
Find a Trusted Dealer
The best way to sift through your many options is to find Oriental or Persian rugs for sale from a knowledgeable dealer. Look for a trustworthy specialist who can answer your questions without hesitation and has years of experience to back them up.
Taghavi's Oriental Rugs in Memphis, TN, is your source for high-quality Oriental rugs. We opened our business in 1977 and currently carry an inventory of over 5,000 unique Oriental and Persian rugs. We also offer Oriental rug cleaning, repair, and restoration to help your investment last. Visit us to shop our inventory, discuss a custom Oriental rug creation, or request a no-obligation estimate for any of our services.