Skip to Content
7 Reasons to Hire a Professional Rug & Carpet Cleaner
When you invest in a beautifully hand-crafted product like an Oriental rug, giving it proper care is essential to get the most from your investment. While routine vacuuming and spot cleaning are important, these steps aren't enough on their own. Rugs need to be professionally cleaned every two to three years to remove stains and deodorize while preserving fiber quality and color. Consider these seven reasons to schedule professional rug and carpet cleaning services in Memphis, TN.
1. Help your rug last longer: Think of hiring the best carpet cleaner as a form of preventative maintenance. After all, the dust, dirt, and other particles that settle in the carpet act like tiny daggers, damaging the knots and deteriorating the rug's appearance. Regular cleaning removes even the most deeply embedded dirt that vacuuming misses, protecting the fibers and ensuring your rug lasts generations.
2. Save money on rug repair and replacement: Hiring a professional carpet cleaner today helps you spend less on rug repair and replacement, saving you money in the long run.
3. Keep your floor coverings clean: It's surprising how quickly dirt accumulates, especially on the lowest surfaces in your home. Working with a professional carpet cleaner keeps your home fresher and more sanitary. This is particularly important in homes with young children because they spend so much of their time sitting, lying, and crawling on the floor.
4. Ensure safe, effective rug cleaning methods: Not all carpets and rugs are made of the same materials. The best carpet shampooers know what cleaning methods are best, depending on whether the rug is silk, wool, cotton, or synthetic fiber. This prevents the colors from running or fading and keeps the knots in good condition.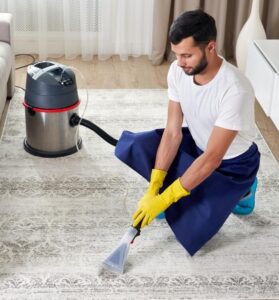 5. Enjoy more effective stain removal: If your attempts to remove a stain are ineffective, turn to the professionals for help. Depending on what created the stain, you may want to contact an Oriental rug cleaning specialist for advice to prevent making matters worse.
6. Benefit from high moisture extraction techniques: It's often necessary to drench rugs to achieve the deepest clean. The best carpet cleaners then use advanced moisture extraction and drying techniques to prevent mold growth and musty odors.
7. Save time attempting to clean your carpet yourself: Routine rug care like vacuuming and spot cleaning is certainly recommended, but deep cleaning is much trickier. Leave this meticulous care to a professional, who can even pick up and deliver your rug to save you time and effort.
Taghavi's Oriental Rugs in Memphis, TN, has been the premier seller and repair shop for high-quality Oriental rugs since 1977. We take great pride in treating every customer's rug with the utmost attention and respect. Many rug cleaners use automated machines and harsh chemicals, but we clean each product by hand with natural cleaners for the gentlest care and preservation. For help ensuring your prized Oriental rug stands the test of time, please contact us at 901-327-5033 to request a no-obligation rug-cleaning estimate.