Skip to Content
World-Renowned Oriental Rug Services in Memphis, TN
4 Reasons Why People Choose Us
Ali Taghavi, Master Weaver at Taghavi Oriental Rugs, has been practicing the specialized art form of Oriental rug making since 1950 and has been part of the Memphis, TN community since 1977. Well before 1977, when Taghavi was 8 years old, he started gaining recognition and status in the rug industry. With the incredible knowledge and skill of the Taghavi family, our customers receive the best rug services in the area and even the world. You'll be hard-pressed to find a better rug provider. That's when so many people choose our shop for their rug needs. Here are four reasons why people choose Taghavi's Oriental Rugs in Memphis, TN.
Improve the Overall Life of Your Carpet
Many rugs and carpets are sentimental or have monetary value, but over time, foot traffic, dust, allergens, pets, and children leave their mark on your precious rug. That's when Taghavi's Oriental Rugs should be called. Our carpet services provide a way for you to clean and repair your rug, restoring it to its former glory.
Oriental Rug Cleaning Services – Our rug cleaning services are thorough and gentle. We hand wash your rug in our facility without the use of harsh chemicals. We instead use the traditional hand washing method with natural soaps and pure water rinses. This ensures a longer-lasting life for your rug and still removes stains, dust, allergens, grime, and other debris that have infiltrated your rug over the years.
Rug Repair Services – While cleaning services can do a lot to restore your beloved rug, they can't fix all rug issues. Over time your rug may start to unravel, fray, mat, or tear. We provide services such as reweaving, binding, overcasting, stitching, touch-up dyeing, patching, and blocking services that can restore your rug.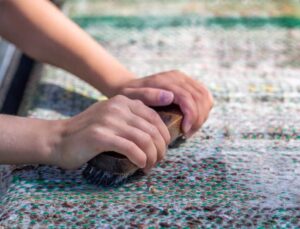 Ease and Simplicity of Oriental Rug Services
Trying to clean your rug in your own home or business can be incredibly difficult, especially when you don't have the tools or facility to deeply clean your rug. When you choose to hire professional rug services, you can rely on professionals with years of experience, state-of-the-art tools and a facility designed specifically to clean rugs. For a deeper, easier, and more simple cleaning job, call Taghavi's Oriental Rugs right away. When you choose us, you don't even have to bring your rug to our facility. We offer pickup and delivery options.
Odors and Smells
Unfortunately, rugs and carpets tend to accumulate a smell or strong odor over time. Additionally, any spills, crumbs, dirt, animal hair, pollen, mildew, and any other contamination collect in the fibres of the rug. These sit on the rug and over time start to emit horrendous smells. You may try to clean your rug with cleaning products you find at the store, but these smells tend to need complete and deep professional cleaning.
When you hire Taghavi's Oriental Rugs to get rid of the odors and smells emitting from your rug, you can rely on thorough, vigorous, and gentle cleaning that will eliminate these smells. We have a customized cleaning and deodorizing solution that doesn't involve harsh chemicals but still gets rid of the harsh smells coming from your rug. People often choose Taghavi's Oriental Rugs to deodorize their rugs because of the decades of experience our team has with handling, repairing and cleaning these rugs.
Time Saving
If you are taking rug cleaning into your own hands, prepare to spend a lot of time working on your rug. Even in our professional business with the right expertise, facility, and tools, properly cleaning a rug can take hours. When you choose Taghavi's Oriental Rugs, you can save all that precious time. We'll pick it up and deliver it back to you when it's done. Save time and effort by choosing our experts.
Call Us for an Appointment
When you choose our rug cleaning company, you'll have peace of mind that your rug is being taken care of by true experts. Our team knows exactly how to handle a delicate and precious rug, and how to properly repair and clean it without causing further damage. Call our team at Taghavi's Oriental Rugs in Memphis, TN to set up an appointment. We look forward to restoring your rug and providing the following services for you: