Skip to Content
Rugs may tie a room together, but they also take a beating from foot traffic, pet accidents, and clumsy spills. Take a close look at your favorite area rug the next time you vacuum. If it still looks dingy when you're done, you know it's time for a deep clean. Follow these tips on how to clean a rug to refresh your floor coverings as often as you want.
Remove dirt and debris: Take small- to medium-sized rugs outside and give them a good shake. Hang larger rugs over a railing or sturdy chairs and beat them with a broom or tennis racket.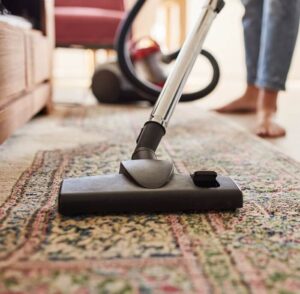 Check the label: Before attempting to clean your rug at home, check the care tag for special considerations or even advice to avoid cleaning.
Set up your workstation: Clear a space to wash your rug, preferably on a sunny deck, patio, or driveway, where you can leave the carpet to dry.
Mix or buy carpet shampoo: DIY carpet cleaner involves nothing more than dish detergent mixed into a five-gallon bucket of lukewarm water. You can also purchase commercial carpet shampoo and follow the mixing instructions on the label.
Test the rug for colorfastness: Wet a corner of the carpet with the cleaning solution and check if the colors run. If not, it's safe to proceed.
Wash your area rug: Work the cleaning solution into a lather using a sponge or soft-bristle brush. Start on one end and work your way down, rewetting your sponge or brush often. Allow the shampoo to sit for at least five minutes.
Rinse the rug: Hose down the carpet or dump buckets of water over it. Rinse the fibers thoroughly to remove all signs of soapy residue.
Remove excess water: Use a shop vac or drag a squeegee in the direction of the nap to remove water. Place white towels over the rug and step on them to absorb even more moisture.
Let it dry: Lay the rug flat to dry, flipping and rotating it periodically to speed up the process. Make sure the carpet is completely dry before bringing it back inside.
Vacuum or brush out the fibers: Once dry, fluff the rug with light vacuuming or a soft-bristle brush. Now you're ready to enjoy your freshly cleaned carpet!
For Oriental rug cleaning, call the professionals: Area rug cleaning is typically a project you can tackle yourself—unless your carpet is antique, highly valuable, or quite delicate. Oriental rugs often fit all three descriptions, so the best way to clean these rugs is to contact a professional.
Taghavi's Oriental Rugs in Memphis, TN, has been the premier seller and repair shop for high-quality Oriental rugs since 1977. We take great pride in treating every customer's rug with the utmost attention and respect. Unlike other rug cleaners that use machines and harsh chemicals, we clean each product by hand using natural cleaners for the gentlest care. Contact us at 901-327-5033 to request your no-obligation rug-cleaning estimate.