Skip to Content
Off Site Rug Cleaning in Memphis, TN
World-Renowned Off Site Rug Specialist Near You
Taghavi's Oriental Rugs has been a core part of Memphis, TN since 1977. One of the world's greatest Master Weavers, Ali Taghavi, had been practicing since childhood and started gaining recognition and respect in the rug specialist industry at age eight. The Taghavi team cares deeply about providing our customers with the best quality services possible, which is why we use natural soaps and pure water to clean our rugs. We never use harsh chemicals and wash the rugs by hand to ensure the quality of your Oriental or Persian rugs remains intact. Our off-site cleaning service provides our customers with professional cleaning services with no hassle.
What Is Off-Site Rug Cleaning?
Off-site rug cleaning is the process of taking your carpet to the cleaning facility rather than cleaning the rug in your home or business. Our team at Taghavi's Oriental Rugs offers quality off-site rug cleaning for our customers. While you may miss having your rug for a while, you will experience the ultimate convenience. Then your rug will quickly be returned to you in much better shape than when you last saw it. Most often we recommend off-site rug cleaning because of how much effort, time, and difficulty it saves. The only time we may recommend onsite rug cleaning is if there is a proper area or surface to use during the cleaning process.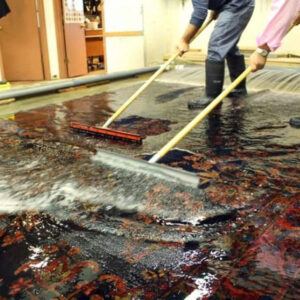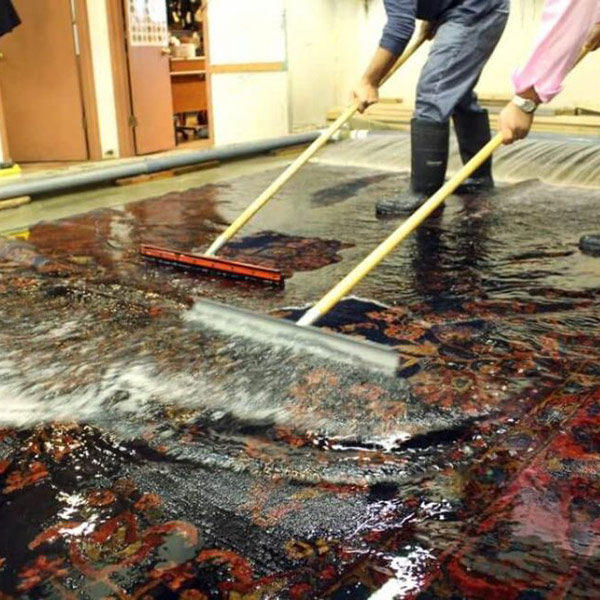 Why We Recommend Off-Site Rug Cleaning
 At Taghavi's Oriental Rugs, we recommend off-site rug cleaning because of the simplicity and convenience it provides both you and our team. When you choose our off-site rug cleaning services, you'll save time and effort and get a deeper clean. Contact us today to set up an appointment. Our cleaning process allows us to provide quality results for every rug and carpet:
Pre-Inspection – When we inspect and examine your rug, we evaluate for concerns and areas of heavy soiling. We'll also be able to ensure that the rug is in condition to be cleaned. Sometimes we recommend repairing a rug before cleaning it to ensure any damage doesn't worsen in the cleaning process. This step can include taking pictures of the rug and detailing the condition of your rug.
Colorfastness Testing – At Taghavi's, we handle some very delicate and ornate rugs. With traditional Oriental and Persian rugs especially, colorfastness testing is crucial. This process will entail testing your rug to ensure that color bleeding or discoloration won't happen during the cleaning process. We usually test a small non-visible part of the rug to rule out any color issues. Some soaps or processes may cause discoloring on certain fabrics and materials. Testing your rug before cleaning ensures that we can use the right products for your rug.
Shampooing and Washing – Our shampooing and washing process at Taghavi's is thorough, yet gentle, which ensures we can clean the hardest stains on even the most delicate fabrics and is more effective than steam or dry cleaning.
Rinsing and Drying – We use pure water to rinse out the rug and wash away all the grime and natural soap. After we've completely rinsed the rug and the water comes out clean, we use our specialty drying chambers to dry out the rug. This quicker method of drying the rug out ensures that mildew doesn't cumulate in your newly clean rug. This better drying method isn't available when we do onsite cleaning.
Roll and Preparation for Delivery – Lastly, we roll your rug and prepare it to be delivered back to you at your home or business. That's right. We offer area rug cleaning pick-up and delivery for your convenience.
Why Your Rugs Deserve Expert Area Rug Cleaning
Your rugs deserve the absolute best cleaning services possible. Our expert services at Taghavi's Oriental Rugs are designed specifically to provide high-quality results to our customers. When you choose Taghavi's Oriental Rugs for your off-site rug cleaning needs, you'll enjoy the following benefits when you choose Taghavi's:
No-Obligation Estimates – We provide you with clear estimates on prices and costs of our services during our free inspections so that you can properly determine how you want to move forward with the repairs and cleaning.
Free Inspections – Our team is passionate about providing quality services. We do this by starting with a free inspection. This allows us and you a clear understanding of what's needed to restore your rug to its form glory. During this inspection, we'll provide you with a detailed plan of how we'll clean your rug to remove any stains and odors that you're concerned about.
Valuable Information – Our Master Weaver will also provide you with detailed information about how we plan to clean your rug as well as beneficial information about how to best care for your rug to ensure a prolonged life span.
Area Rug Cleaning Pick Up and Delivery – We are passionate about ensuring that our customers receive the best rug care at the most convenience. To do this, we offer valuable pick-up and delivery options for your rug so that you don't even have to leave your home.
Call Us for an Appointment
Call our team at Taghavi's Oriental Rugs in Memphis, TN to set up an appointment today. You can have a cleaner rug than ever in a short time with our services. We look forward to cleaning your rug and removing any old stains and smells. In addition to our quality rug cleaning services, we also offer: