Skip to Content
How to Repair Moth Damage in Rugs
Moths are destructive pests that can wreak havoc on clothing and textiles. As the owner of a moth-damaged Oriental rug, you know this all too well. Here's how to repair moth damage in rugs and prevent recurring problems.
How Moths Can Damage Rugs
Moths lay eggs in dark, undisturbed areas with organic fibers to sustain newly hatched larvae. Therefore, vacuuming all corners of your Oriental rugs, including underneath furniture, is important to prevent unseen moth damage. Without preventative measures, moths can eat through large sections of a rug, causing divots, threadbare patches, and eventually holes.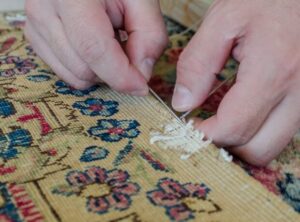 How to Repair Oriental Rug Moth Damage
If your rug has sustained moth damage, start by vacuuming the front and back as thoroughly as possible. Avoid using the beater brush extension, which may damage the fibers. Then, evaluate the moth damage. The most likely places to notice problems include the underside of the rug and anywhere the rug was hidden by furniture.
The next step is to arrange rug cleaning and repair. Deep rug washing uses special carpet shampoo, conditioning treatment, and moth removal to rid your rug of these pests. Once washed and dried, a master weaver can evaluate your rug. The repair methods that can restore your Oriental rug to its former glory include:
Patching: A donor rug in a similar color and pattern is used as a patching material to conceal holes. The weaver blends the patch to match the original rug as closely as possible.
Binding repair: The binding protects the edges and prevents the rug from unraveling. Depending on the extent of the damage, the binding can be repaired or completely replaced.
Resizing: Moth damage along the edge of the rug can be cut and removed, with a new binding added. Be aware that this reduces the size of the rug.
Shearing: If your moth-damaged rug now has an irregular pile, shearing can eliminate the uneven look.
Reweaving: The weaver repairs holes by tying new knots in the same color and material as the original work. This labor-intensive method costs more and takes longer than other rug repair options, but the superior results may be worth it.
How to Prevent Future Moth Damage
Thoroughly vacuum and disinfect the floor before laying your newly repaired rug back down. Then, watch for signs of a moth infestation, such as moths flying around, moth carcasses on the floor, or eggs that look like grains of rice. Set moth traps as needed to keep these pests away from your rug. Finally, vacuum and dust regularly to keep moths at bay, and have your rugs professionally cleaned every two to three years.
For reliable Oriental rug repair and restoration in Memphis, TN, turn to Taghavi's Oriental Rugs. We have been the premier seller and repair shop for high-quality Oriental rugs since 1977. We take great pride in treating every customer's rug with the utmost attention and respect. Our master weaver will do everything possible to restore your moth-damaged rug to like-new condition. For your no-obligation rug repair estimate, please contact us at 901-327-5033 today.