Skip to Content
8 Reasons to Clean Your Rugs before the Holidays
As you prepare to invite friends and family over for the holidays, you undoubtedly want your home to look its best. This means touching up the wall paint, vacuuming the upholstery, and replacing worn-out throw pillows. You should also clean your Oriental rugs before the holidays. Here are eight reasons to schedule Oriental rug cleaning services this time of year.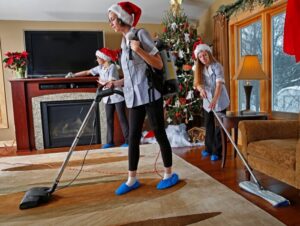 Protect your investment: It rains year-round in Memphis, so you must always be vigilant against water and mud entering your home. In addition to asking people never to set wet boots, damp coats, or dripping umbrellas on your Oriental rug, you should prioritize rug cleaning every two to three years to protect your investment.
Enjoy cleaner air quality: The connection between clean carpets and clean air is more significant than you might think. Professional cleaning removes embedded dirt, hair, dust mites, pollen, and other allergens to help you breathe easier over the holidays.
Remove set-in stains: Have you already tried removing carpet stains from your area rug without success? Professional cleaning is more thorough, making it possible to remove even the most stubborn stains before your holiday guests arrive.
Clean up after your kids and pets: You love the little ones running around your house, whether on two legs or four. Unfortunately, kids and pets can make a mess of your prized area rugs. Undo clumsy spills and accidents with deep cleaning from a professional Oriental rug cleaner.
Deodorize: Your home is more inviting if it not only looks clean but smells fresh as well. Removing dirt and stains naturally deodorizes your rug, preventing unpleasant odors from turning off your guests.
Simplify future rug maintenance: Does your regular vacuuming and carpet-cleaning routine fail to do the job? Professional Oriental rug cleaning returns your floor covering to like-new condition, making it easier to keep up with rug maintenance from here on out.
Restore your rug's appearance: When you send your carpet in for cleaning, you can also request Oriental rug repair. This treats damage from heavy foot traffic, furniture weight, moths, and other wear to make your rug look more beautiful and add years to its lifespan.
Get ahead of the holidays: If you wait too long to schedule Oriental rug repair and cleaning, you might not get your carpet back before your big holiday party. Schedule services now to make sure you enjoy these benefits of cleaning your rugs before the holidays.
No one takes better care of your Oriental rugs than the experienced team at Taghavi's Oriental Rugs in Memphis, TN. As the premier seller and repair shop for high-quality Oriental rugs since 1977, we treat every customer's rug with the utmost attention and respect. While many rug cleaners use automated machines and harsh chemicals, we clean each product by hand using natural cleaners for the gentlest care possible. For help preparing your carpets for the holidays, please contact us at 901-327-5033 and schedule Oriental rug cleaning in Memphis.