Skip to Content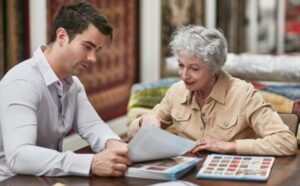 Are you shopping for an Oriental rug? There are so many different rug sizes, types, and styles that choosing one can be overwhelming. Here, we offer tips to guide you in the rug buying process.
The first thing to determine when you're shopping for a rug is the size you need. Start with an accurate measurement of your room, and then use this rug size guide to help you.
Choose a rug that's in proportion with the room. Visualize how the rug will look by marking off the area where it will be located with masking tape. The area within the masking tape will give you a better idea of the right fit.
Fit your rug to the room where it will go. Rug sizes for living room areas will differ from those that work in a bedroom. When you're placing a room in a living room, for instance, you'll want to decide whether to put it in the center of the room, with couches and chairs off the rug and only the coffee table on it, or filling the room. However, there are a few different options when it comes to bedroom rugs ideas. The bed can fit completely or partially on the rug, or you can choose runners to go around the bed.
If you're buying an Oriental or Persian rug, be aware that the size greatly affects the value of the rug. Because these rugs are handmade, larger rugs will typically be more expensive.
Aside from size, there are many other factors that go into the price of a rug, including materials, knot count, and design. Hand-made Oriental rugs are typically made from wool, cotton, or silk. Knot count varies widely in Oriental rugs, and a lower knot count doesn't necessarily mean lower quality. However, rugs with a more intricate pattern typically have a higher knot count and are more expensive than rugs with a lower knot count or more basic pattern.
When you're shopping for a good-quality Oriental rug, look for consistency in the weave, with no visible flaws. Turn the rug over to make sure there's no irregular weaving on the back, and make sure it lies flat on the floor without rippling or puckering. Look at it closely. Do the ends and edges look straight? Is the fringe neatly cut, with the ends neatly and tightly secured? The fringes should not be discolored or made from anything other than cotton or wool.
Once you've determined the size you need and you know how to spot quality, decide on the color and shape. Oriental rugs come in a variety of colors, so you can find what you need whether you're looking for something to brighten a room or you prefer a rug that's more muted. If your room is small, consider a light-colored rug, but if your room has plenty of light, you can choose a deeper shade. Whether you're trying to match a specific shade or you're buying a rug for a room that's not decorated yet, you can find the color and tone you want in an Oriental rug.
The shape of the rug you choose will be dictated by the space where you'll put it. If you're looking for a rug to go under an oval dining table, you might choose an oval rug. A large rectangular rug might be the best option for your living room or bedroom, while a runner is perfect for a hallway.
If you're looking for meticulous rug care or high-quality rugs near Memphis, TN, trust Taghavi's Oriental Rugs. Since 1977, our family-owned and operated rug store has been providing exceptional quality rugs and reliable services to customers all over the world. Based in Memphis, our store features a large inventory of hand-crafted Oriental rugs, some made by master weaver Ali Taghavi, others by respected rug weavers in other parts of the world. We also provide onsite Oriental rug cleaning and repair services, with experienced professionals doing all the work by hand. Contact us for a no-obligation estimate, check out our inventory of more than 5,000 Oriental rugs for sale or talk to us about custom-made rugs.