Skip to Content
Fall has arrived, and with the changing season comes the need for new routines and habits. One of the most important things to consider during this time is the cleanliness of your home, particularly your rugs. Whether you have a handmade Oriental rug or a machine-made one, it's crucial to give them a good cleaning as part of your fall routine. In this blog post, we'll discuss everything you need to know about fall rug cleaning, why it's important, and how to get the job done.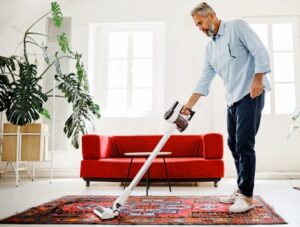 1. Why Fall Rug Cleaning is Important
As you transition from summer to fall, it's important to take a closer look at your home and assess the state of your rugs. You may not realize it, but rugs can hold onto dirt, dust, and allergens that can accumulate over time. Plus, with family and friends spending more time indoors during the fall season, it's important to ensure that the air quality inside your home is at its best. A clean rug can go a long way in creating a fresh, inviting atmosphere in your home.
2. How to Prepare Your Rugs for Cleaning
Before you begin cleaning your rugs, it's important to prepare them properly. Start by vacuuming your rugs thoroughly to remove any surface dirt and dust. If you have pet hair or other debris that's stuck to the rug, use a brush or a carpet sweeper to loosen it up. Next, check the rug's label for any specific washing or cleaning instructions. Some rugs might require special care, such as dry cleaning or spot cleaning only.
3. When to Hire a Professional
If you have a valuable, delicate, or large rug, it's best to hire a professional rug cleaner. A professional cleaner has the expertise and equipment necessary to deep clean your rug without damaging it. They can also address specific issues such as pet stains, odors, and discoloration. Professional cleaners can also clean your rug thoroughly and protect it against future wear and tear.
4. The Benefits of Fall Rug Cleaning
Finally, the benefits of fall rug cleaning are numerous. In addition to creating a cleaner, healthier home environment, a clean rug can also prolong its lifespan. Regular cleaning can keep your rug looking fresher for longer and reduce the likelihood of having to replace it as frequently. Plus, by investing in professional cleaning, you're ensuring that your rug is being properly cared for and maintained.
Contact Taghavi's Oriental Rugs Today to Schedule a Rug Cleaning
Fall rug cleaning is an important part of your fall routine. By taking good care of your rugs, you're ensuring that your home is a clean, healthy, and inviting space. Whether you opt for DIY cleaning methods or choose to hire a professional, the key is to be consistent and thorough in your efforts. And don't forget, if you need assistance with fall rug cleaning, Taghavi's Oriental Rugs in Memphis, TN, is always here to help. Contact us today at 901-327-5033 to schedule a rug cleaning appointment.