Skip to Content
Oriental Rug Restoration & Repair Collierville
Complete Rug Restoration and Repair in Collierville, TN
Rugs are essential home décor products that add decorative color and accents to living spaces. They provide a soft cushion underfoot while protecting hardwood or tile floors. When you decide to invest in a luxurious Oriental rug, the investor assumes that the product will provide a beautiful and durable floor covering for many years. With proper care, it will. At Taghavi's Oriental Rugs in Collierville, TN, we specialize in the complete restoration and repair of Oriental and other high-quality rug products to ensure you get the most out of your purchase.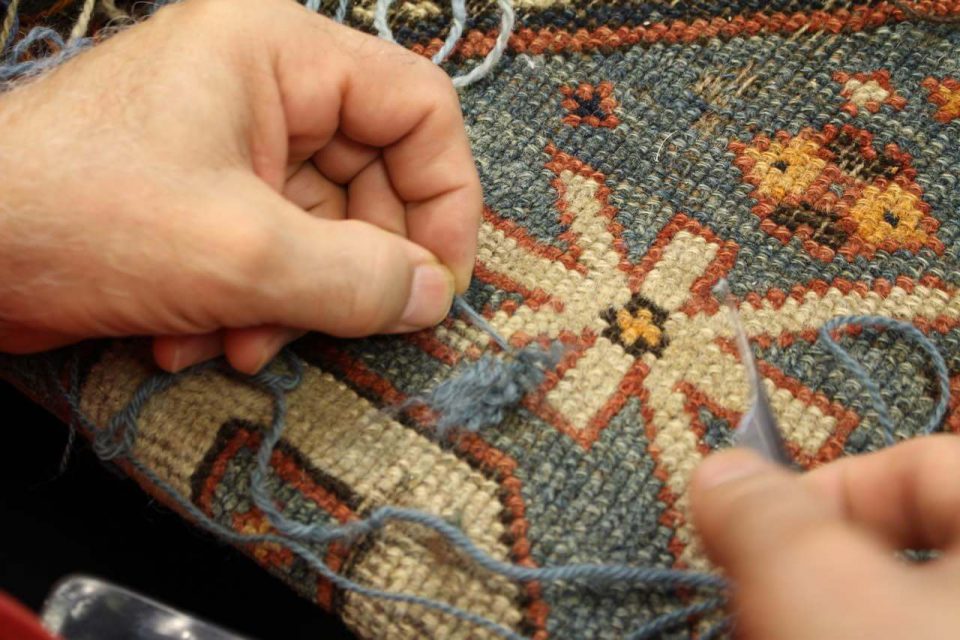 Restoration by Our Master Weaver
When you bring in a rug in need of repair, our master weaver will explain all of your options to you and provide an honest and accurate estimate of the cost. Foot traffic, children at play, and pet paws can cause a lot of wear on a rug over the years. Worn spots, torn foundations, and frayed edges may look beyond repair, but we can provide an exact match and seamless fix with our reweaving services to bring your rug back to like-new condition. We treat restoration like an art form and dedicate the attention it deserves.
We Have a Repair Service for All Types of Rug Damage
Even when you think your rug has provided all it can in terms of use, don't count it out until you contact us for a free assessment. We take the time to inspect rugs individually and examine them carefully to determine the extent of the repairs required. We may suggest:
Reweaving
With contacts worldwide in the rug industry, we can ensure a proper match of fabrics to repair rugs and bring them new life.
Binding & Serging
When the binding at the edge of the rug wears, we can add strength to the foundation with a new binding to bring many more years to the rug's life.
Overcasting and Stitching
Overcasting helps prevent the wool knots from separating from the rug. While the overcasting can wear over time from traffic, replacing it will reinforce the edges.
Touch-Up Dyeing
As rugs wear, the end of the knot warps become visible as tiny white specks. We offer liquid touch-up dyeing to cover these white specks and provide a longer-lasting solution.
Patching
Patching is the least expensive way to repair a hole in an Oriental rug. We search for a piece to closely match the rug pattern, and while it won't be an exact match, it is a common fix for many rugs that aren't the centerpiece of a room.
Blocking
When rugs lose shape from constant foot traffic or furniture weight, blocking is a reliable way to bring it back to its original rectangular shape with proper right angles.
Contact Us for a No-Obligation Estimate
At Taghavi's Oriental Rugs in Memphis, TN, we are fully invested in providing an affordable and reliable solution to restore rugs of all materials, shapes, and sizes. We understand the affection homeowners have for some of their favorite possessions, and when it comes to rugs, we are committed to providing services that extend their lives for years to come. Contact us today for a free inspection and a no-obligation consultation to learn how we can repair your Oriental rug.